Thank You for Joining Us at Neuroscience 2021!
Neuroscience 2021 took place online November 8-11 with Preview Days on November 3-7. On-demand access for all registered attendees ended on November 30. Thank you for participating in Neuroscience 2021!
Review the Neuroscience 2021 walk-through:
Join SfN or renew your membership now to get the best registration rates!
Quick Links
Click the image below to view the Program and Exhibit Guide.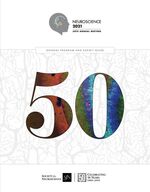 Preview the virtual schedule of sessions and events taking place virtually on November 8-11.

Use the 2021 Neuroscience Meeting Planner (NMP) to find presenters, networking events, and sessions; browse 18 curated itineraries developed by members of the Program Committee around key topics; and block off time on your calendar for the live presentations you don't want to miss.

Junior investigators present exciting and cutting-edge research.

These panel sessions, including the Dual Perspectives Session, Storytelling Session, and the 50th Anniversary Sessions, create new opportunities for scientific collaboration and discussion.
Virtual Networking Events
Review the policies and submit a virtual networking event for Neuroscience 2021, taking place online November 8-11


Prospective students, advisers and neuroscience graduate program representatives have the opportunity to connect, learn, and engage.