Award for Education in Neuroscience
Submissions Open: Mar 3, 2020, 12:00 AM
Submissions Close: May 29, 2020, 12:00 AM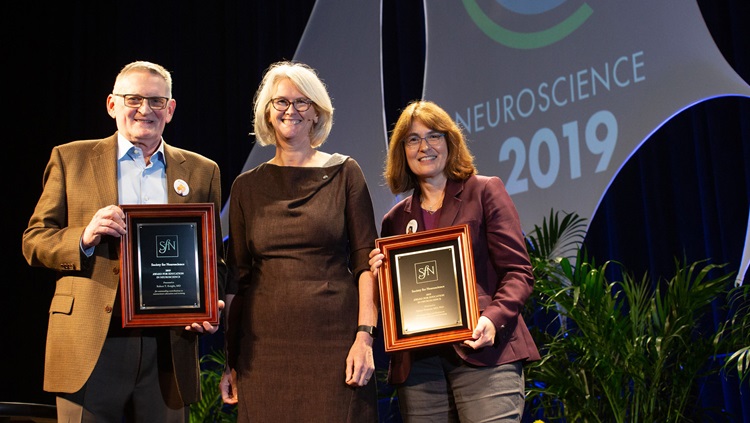 The Award for Education in Neuroscience recognizes individuals who have made outstanding contributions to neuroscience education and training.
Recipients receive complimentary registration, transportation (economy air or ground), and two nights hotel accommodations for the SfN annual meeting.
For more information, please review the Awards and Funding FAQs.
The nomination window for this award is now closed.
Nomination Criteria & Materials
Nomination Criteria:
Self-nomination is not permitted.
Nominees do not need to be SfN members.
Nominations must be made or endorsed by an SfN member.
No person may nominate more than one candidate.
Current SfN officers and councilors are ineligible for nomination.
Due to potential conflicts of interest, members of the selection committee may not be the nominees, and they cannot serve as nominators nor write letters of recommendation for this prize.
Nomination materials include the following:
One nomination letter
Maximum of two optional letters of recommendation (one letter must summarize the nominee's contributions to education and training)
Current CV
One optional supporting document in PDF format submitted by the nominee detailing their contributions to neuroscience education (example: course syllabus, course materials, brochure)
Eligibility
Nominees must have notable contributions to educating and training others about neuroscience.
Past Awardees
2013: Keith A. Trujillo, PhD
2011: Julio Ramirez, PhD
2010: John Nicholls, MD
2009: Thomas M. Jessell, PhD, Eric R. Kandel, MD, and James H. Schwartz, MD, PhD
2008: Dale Purves, MD
2007: John H. Byrne, PhD
2006: Donald Kennedy, PhD
2005: Frankie Trull
2004: Ronald R. Hoy, PhD
2003: Joe L. Martinez, Jr., PhD, and James Townsel, PhD
2002: Eric Chudler, PhD
2001: Edwin J. Furshpan, PhD, Edward A. Kravitz, PhD, and David D. Potter, PhD
2000: Neal Miller, PhD
1999: Michael Zigmond, PhD
1998: Gordon Shepherd, MD, DPhil
1997: Nancy Wexler, PhD
1996: Eugene Streicher, PhD
1995: W. Maxwell Cowan, MD, PhD
1994: Floyd E. Bloom, MD
1993: Walle J. H. Nauta, MD, PhD
1992: Ellen Grass
1991: Oliver W. Sacks, MD
Award for Education In Neuroscience Selection Committee
Chairperson
Term Ends
Tole, Shubha P


Tata Inst of Fundamental Research

11/16/2022