Become a Member
One Mission. Global Community. Together We are Stronger.
Join Us.
Becoming a Member Is Easy
Have the completed documents listed below before you begin your online application.
New and returning members can purchase two years of membership — for 2020 and 2021 — and save 20 percent for each year.
All memberships are valid during their calendar year (January 1 - December 31) and are non-refundable and non-transferable.
---
Become a Member
What You Need to Join
Before you get started with your membership application, make sure you have gathered all of the requirements.
Curriculum Vitae/Resume
Sponsors: You'll need names and SfN member IDs of two active Postdoctoral, Regular, or Emeritus members
Students and Postdocs: Gather proof of enrollment/status such as letter of acceptance or transcript, and contact information for a department/faculty contact
Neuroscience Training Programs: Complete the Institutional Program Membership Application
Once you have all of your documentation ready, create an account, and begin your application.
You can also submit all the information above on a print application with a check payment.
Membership Categories and Dues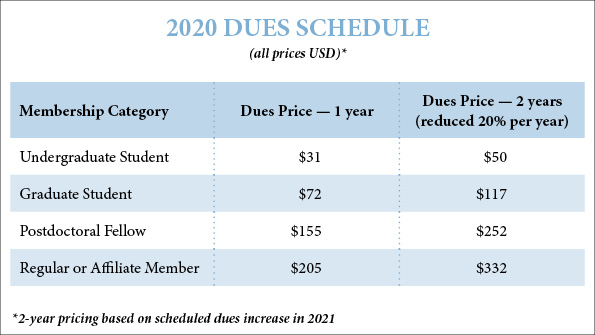 To renew or apply, determine which membership category is right for you. Residents of developing countries are eligible for reduced dues rates.