Join or renew SfN membership before abstract submissions open on May 31.
Donald B. Lindsley Prize in Behavioral Neuroscience
Submissions Open: Mar 29, 2022, 12:00 AM
Submissions Close: May 19, 2022, 12:00 AM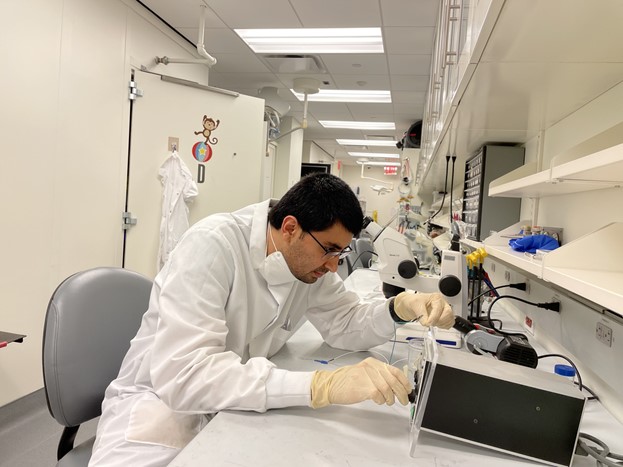 The Donald B. Lindsley Prize in Behavioral Neuroscience, endowed by The Grass Foundation, recognizes a young neuroscientist's outstanding PhD thesis in the general area of behavioral neuroscience.
Behavioral neuroscience is defined for these purposes as neuroscience research involving behavioral variables or oriented toward the solution of behavioral problems.
Recipients receive a $5,000 prize and complimentary registration, transportation (economy air or ground), and two nights hotel accommodations for the SfN annual meeting. The SfN president presents the prize at a lecture at the meeting.
For more information, please review the Awards and Funding FAQs.
Nomination Criteria & Meeting
Nomination Criteria:
Self-nomination is not permitted.
Nominees do not need to be SfN members.
Nominations must be made or endorsed by an SfN member.
No person may nominate more than one candidate.
Current SfN officers and councilors are ineligible for nomination.
Due to potential conflicts of interest, members of the selection committee may not be the nominees, and they cannot serve as nominators nor write letters of recommendation for this prize.
Nomination materials include the following:
One nomination letter from the nominee's PhD mentor(s). No additional letters will be accepted.
One document to include:

Essay (4-6-page (typed, double-spaced) thesis abstract with names and departmental affiliations of thesis committee members).
List of attributions explaining (in the case of collaborative work) which were the contributions of the nominee compared to his/her co-workers.

Current CV (include date of thesis defense)
All nomination materials must be in English, including full theses if invited for the second round review. For nominees with theses in a language other than English, the selection committee will accept an extended abstract and peer-reviewed publication, both written in English.
Eligibility
Nominees must have a thesis submitted and approved between January 1 and December 31 of the preceding calendar year.
Past Awardees
2021: Saurabh Vyas, PhD
2019: Brian M. Sweis, PhD
2018: Marley Kass, PhD
2017: David Herzfeld, PhD
2016: Bianca Jones Marlin, PhD
2014: Sung-Yon Kim, PhD
2013: Michael Yartsev, PhD
2012: Katherine Tschida, PhD
2011: Cara Altimus, PhD
2010: Roozbeh Kiani, MD, PhD
2008: Ricardo Gil da Costa, PhD
2007: Sara Aton, PhD
2006: Marianne Hafting Fyhn, PhD
2005: Miranda Lim, MD, PhD
2004: Sean E. McGuire, PhD
2003: Anthony Leonardo, PhD
2002: Brian Corneil, PhD; Sharon Low-Zeddies, PhD
2001: Wael Asaad, MD, PhD
2000: Michele Solis, PhD; Noam Sobel, PhD
1999: Michael T. Rogan, PhD
1998: Christopher L. Passaglia, PhD
1997: Edward G. Freedman, PhD
1996: C. Daniel Salzman, MD, PhD
1995: Michael S. Brainard, PhD
1994: Wendy A. Suzuki, PhD
1993: Theresa. A. Jones, PhD
1992: Lizabeth M. Romanski, PhD
1991: Gregg H. Recanzone, PhD
1990: Clifford H. Keller, II, PhD
1989: Douglas P. Munoz, PhD
1988: Benjamin L. Wolozin, MD, PhD
1987: John R. Larson, PhD
1986: Douglas G. McMahon, PhD
1985: Robert M. Sapolsky, PhD
1984: David A. McCormick, PhD
1983: Bruce L. Tempel, PhD
1982: Marc Breedlove, PhD
1981: Mary Anne Della-Fera, PhD; Mark E. Gurney, PhD
1980: John K. Chapin, PhD
1979: L. Craig Evinger, PhD
Donald B. Lindsley Prize Selection Committee
Chairperson
Term Ends
Treue, Stefan


German Primate Center

12/31/2023