Welcome to NSP Central!
As members of the Neuroscience Scholars Program, you have access to curated resources for mentoring relationships, professional development, and more.
Remember to update your contact information in your SfN account.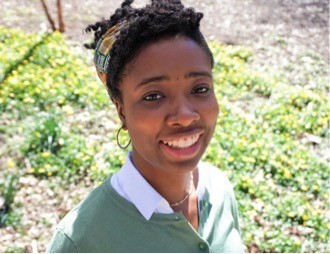 Congratulations, Ashlea Morgan!
Ashlea Morgan is a 6th-year neurobiology and behavior doctoral candidate at Columbia University. In the lab of Mark Ansorge, she researches how serotonin signaling shapes prefrontal function to impact cognitive flexibility behaviors. "I am doing science so I am a scientist. And, I am going to go ahead and say, I am a blogger," Ashlea wrote for Columbia Researchers Against COVID-19 (CRAC). She reclaimed her titles as "scientist" and "writer" in a follow-up Medium story answering the question: Why hadn't she called herself a scientist? Whether as an editor/co-founder of the blog "Scientist on the Subway" or as a coordinator for the graduate student-led "Late Night Science" community seminar series, she uses writing and public engagement to fuel and inspire passion for science.
Check out a selection of her work, including one press release from her co-authored paper
Want to shine the spotlight on a fellow Scholar or Alumnus? Submit a nomination here.
Webinars and NSP Community
Register for upcoming webinars and view past content on-demand.

Private NSP group for Scholars and Alumni to connect, participate in live chat discussions, view upcoming events, and discover career, funding, and networking opportunities and resources.
Preparing the Next Generation of Neuroscience Leaders 2019
About the Conference

This summer SfN hosted a conference for the NSP Community to dive into leadership skills, personal and scientific promotions, and grant writing, while creating additional opportunities for professional development, networking, and community building.

Watch the conference video here.
About

For trainees to present their research and network with other scientists. Past participants were sponsored by NSP, the Summer Program in Neuroscience, Ethics & Survival (SPINES), and others.

View Past Programs
Mentor/Mentee Resources
Explore these resources from SfN, Neuronline, and outside institutions.
Expense Report Information
NSP Scholar Funding Opportunities
Fellow Enrichment Funds

Review the Enrichment Fund Guidelines.
When you have identified an activity/purchase, login to this site.
Select Enrichment Fund Request Form from the drop-down menu.
Submit the form by pressing the blue Send Application Request button.

IBRO-USCRC Fellowships for Associates and Fellows

Current NSP Scholars are eligible to apply for IBRO fellowships that will provide up to $5,000 to attend national or international workshops, courses, and conferences to increase opportunities for learning, networking, and collaborations. Up to 7 awardees will be selected in 2020.
Learn more about eligible courses and apply: 2021 IBRO-USCRC NSP Fellowship