Swartz Prize for Theoretical and Computational Neuroscience
Submissions Open: Mar 23, 2021, 12:00 AM
Submissions Close: May 21, 2021, 12:00 AM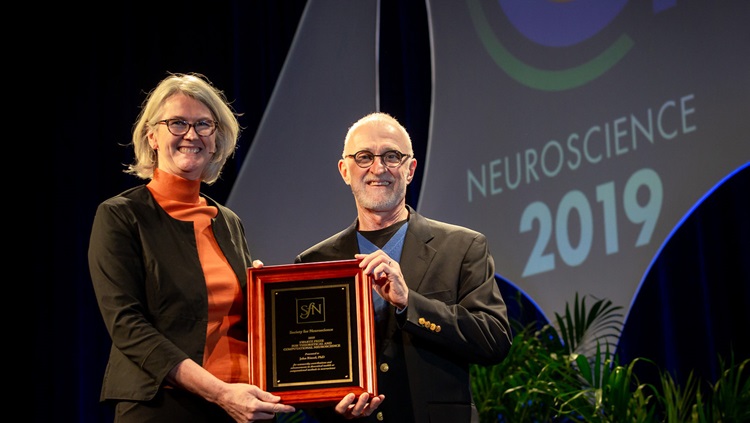 The Swartz Prize, endowed by the Swartz Foundation, honors an individual whose activities have produced a significant cumulative contribution to theoretical models or computational methods in neuroscience or who has made a particularly noteworthy recent advance in theoretical or computational neuroscience.
Recipients receive a $30,000 prize and complimentary registration, transportation (economy air or ground), and two nights hotel accommodations for the SfN annual meeting. The SfN president presents the prize at a lecture at the SfN annual meeting.
For more information, please review the Awards and Funding FAQs.
The nomination window for this award is now closed.
Nomination Criteria & Materials
Nomination Criteria:
Self-nomination is not permitted.
Nominees do not need to be SfN members.
Nominations must be made or endorsed by an SfN member.
No person may nominate or write a letter of recommendation for more than one candidate.
Current SfN officers and councilors are ineligible for nomination.
Due to potential conflicts of interest, members of the selection committee may not be the nominees, and they cannot serve as nominators nor write letters of recommendation for this prize.
Nomination materials include the following:
One nomination letter describing the nominee's contributions to the field
Maximum of two optional letters of recommendation (one letter must include a summary of past, present, and future research, maximum of two pages)
Current CV
A list of publications and abstracts authored or co-authored by the nominee
Eligibility
The prize is open to all individuals who have contributed to theoretical or computational neuroscience.
Past Awardees
Swartz Prize Selection Committee
Chairperson
Term Ends
Cline, Hollis T


The Scripps Research Institute

12/31/2023
Members
Sompolinsky, Haim I


Hebrew Univ

12/31/2022
Kording, Konrad P


Upenn

12/31/2022
Wang, Xiao-Jing


New York University

12/31/2022
Skinner, Frances K


Krembil Research Institute, Univ Hlth Network

12/31/2023
Miller, Kenneth D

12/31/2023
Tchumatchenko, Tatjana


University of Bonn Medical Center

12/31/2023
Nadim, Farzan


New Jersey Inst of Technology

12/31/2023
Prinz, Astrid A.


Emory University

12/31/2024
Carey, Megan R


Champalimaud Center For the Unknown

12/31/2024
Uchitel, Osvaldo D


IFIBYNE UBA CONICET

12/31/2025