Ralph W. Gerard Prize
Submissions Open: Mar 23, 2021, 12:00 AM
Submissions Close: May 21, 2021, 12:00 AM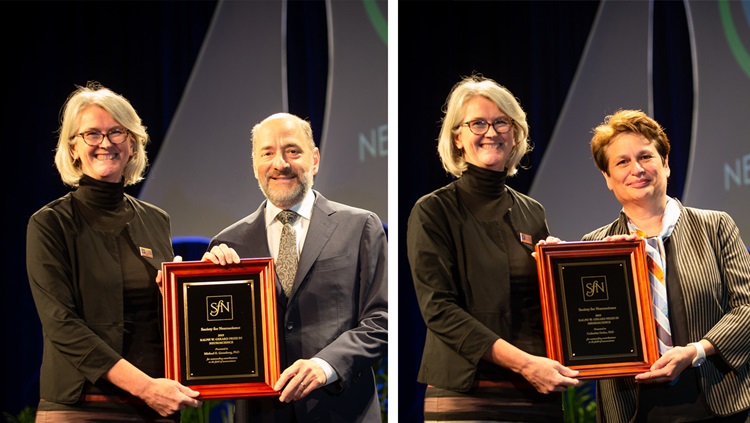 The Ralph W. Gerard Prize in Neuroscience honors an outstanding scientist who has made significant contributions to neuroscience throughout his or her career.
The highest recognition conferred by SfN, the Gerard Prize is named for Dr. Ralph W. Gerard, a revered neuroscientist who was instrumental in establishing SfN and served as honorary president 1970-1974.
Recipients receive a $30,000 prize and complimentary registration, transportation (economy air or ground), and two nights hotel accommodations for the SfN annual meeting. The SfN President presents the prize at a lecture at the meeting.
For more information, please review the Awards and Funding FAQs.
The nomination window for this award is now closed.
Nomination Criteria & Materials
Nomination Criteria:
Self-nomination is not permitted.
Nominees do not need to be SfN members.
Nominations must be made or endorsed by an SfN member.
No person may nominate more than one candidate.
Current SfN officers and councilors are ineligible for nomination.
Due to potential conflicts of interest, members of the selection committee may not be the nominees, and they cannot serve as nominators nor write letters of recommendation for this prize.
Nomination materials include the following:
One nomination letter describing the nominee's contributions to the field
Maximum of two optional letters of recommendation (one letter must include a summary of past, present, and future research, maximum two pages)
Current CV
Eligibility
The award is open to all scientists with contributions to the field of neuroscience.
Past Awardees
2020: György Buzsáki, PhD
2018: Rodolfo Llinás, MD
2017: Mary Hatten, PhD
2015: Story Landis, PhD
2013: Carol A. Barnes, PhD
2011: Carla Shatz, PhD
2010: Ricardo Miledi, MD
2007: Friedrich Bonhoeffer; Nicole M. Le Douarin
2006: Horace Barlow, MD; Robert Wurtz, PhD
2005: Sten Grillner, MD; Eve Marder, PhD
2004: Masakzu Konishi, PhD; Nobuo Suga, PhD
2003: A. J. Hudspeth, MD, PhD
2002: Patricia Goldman-Rakic, PhD; Pasko Rakic, MD, PhD
2001: W. Maxwell Cowan, MD, PhD
2000: Solomon Snyder, MD
1999: Charles F. Stevens, MD, PhD
1998: Edward R. Perl, MD
1997: Eric R. Kandel, MD
1996: Louis Sokoloff, MD
1995: Hans Thoenen, MD; Eric M. Shooter, PhD
1994: Paul Greengard, PhD
1993: David H. Hubel, MD; Torsten N. Wiesel, MD
1992: Julius Axelrod, PhD
1991: Bert Sakmann; Erwin Neher, PhD
1990: Bernard Katz, PhD; Sanford L. Palay, MD
1989: Seymour Benzer, PhD
1988: Horace W. Magoun, PhD; Donald B. Lindsley, PhD
1987: Brenda Milner, PhD
1986: Seymour S. Kety, MD
1985: Viktor Hamburger, PhD; Rita Levi-Montalcini, MD
1984: Theodore H. Bullock, PhD; Susumu Hagiwara, MD, PhD
1983: Walle J. H. Nauta, MD, PhD
1982: Jerzy E. Rose, PhD; Clinton N. Woolsey, MD
1981: Herbert H. Jasper, MD, PhD
1980: Vernon Mountcastle, MD
1979: Roger W. Sperry, PhD
1978: Stephen W. Kuffler
Ralph W. Gerard Prize Selection Committee